Register now for our next live virtual training event!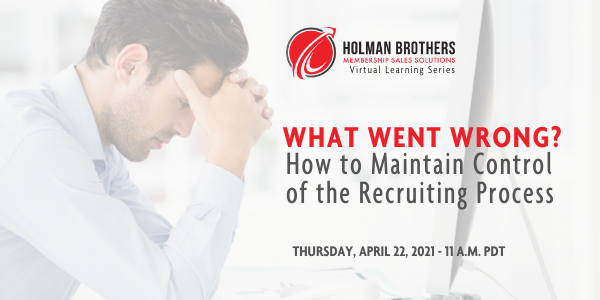 What Went Wrong?
How to Maintain Control of the Recruiting Process
Thursday, April, 22, 2021 from 11 a.m. - 12 p.m. PDT
It seems to come from nowhere. Your hot prospect stops returning your calls. A talkative prospect inexplicably starts giving one-word answers to questions. Your prospect isn't the decision-maker after all and has to run your offer by someone else. You get the picture – promising recruiting opportunities can unravel quickly.
New membership reps and veteran membership pros – no one is exempt from recruiting challenges. Holman Brothers will supply the proven solutions you need to overcome recruiting obstacles and maintain control of the recruiting process.
In Just 1 Hour You'll Learn:
Dos and don'ts. Because you must do everything you can to earn prospective member's trust.
Clear, easy-to-adopt strategies. Because you need actionable practices to overcome recruiting challenges.
What to say and how to say it. Because the right messaging will help you gain buy-in and maintain control of the recruiting process.
Real–World Application. Because you deserve relevant, chamber-specific solutions to manage and overcome the challenges you face every day.
Don't let promising membership opportunities evaporate. Register today!